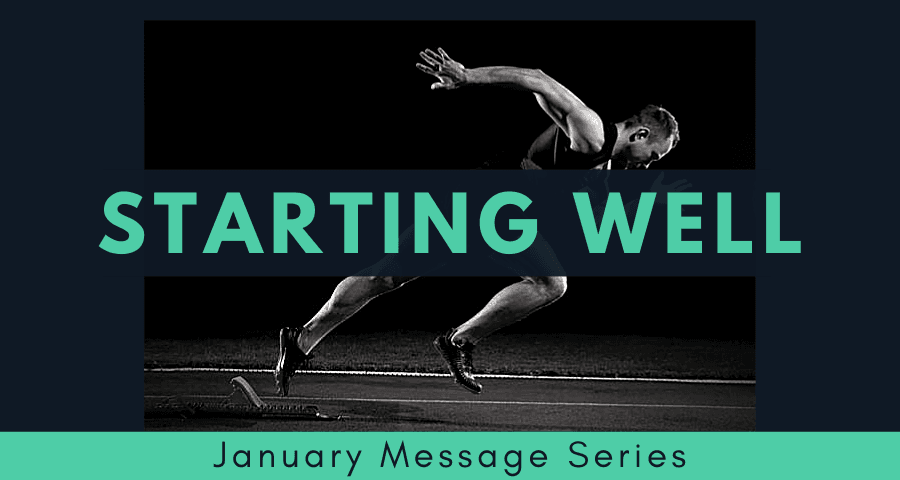 01-12-2021 STARTING WELL | Empowerment
Empowerment
Every Christian struggles with temptation. Our struggle with temptation can cause us to feel frustrated and discouraged. These feelings are certainly magnified if you add addiction to the struggle. What is a follower of Jesus to do? How can we find empowerment to have victory over temptation?
Fortunately, Jesus can show us the way! We're starting out 2021 with a sermon series called "Starting Well". We're looking at the life of Jesus and how He laid the foundation and set the direction for His life and ministry by starting well. From Jesus' example, we can learn important lessons on how we can start this new year well. On Sunday January 3, we looked at Focus, this past Sunday, January 10, we looked at Commitment. This week, we'll see how God's empowerment is essential for us to have victory over temptation and this victory can empower us forward into successful ministry.
In Matthew 4:1-11, Jesus went into the wilderness to fast and pray for 40 days. During that time, the devil came and tempted Jesus with three temptations. Each time, Jesus quoted scripture to thwart these temptations. This passage is bracketed by two key verses. Verse 1 says, "Then Jesus was led by the Spirit into the wilderness to be tempted by the devil" and verse 11 says, "Then the devil left him, and angels came and attended him" (NIV). Here we see that Jesus was not alone during this challenging time of temptation. He was empowered by the Holy Spirit and angels to have victory over temptation. This victory also empowered Jesus to start well in His earthly ministry.
As Christians, we daily face a battle with temptation. Following our Lord can bring dangerous and intense spiritual battles. But we have been empowered by God to victory. Let's not rely on our own strength but instead use the power of God to have victory over temptation and empower us to start well this year in serving God and His Kingdom!
Questions for Reflection:
1. What are some of the top temptations we see in our culture that Satan uses to deceive people?
2. What area(s) of temptation are you most susceptible to give in to?
3. What is God calling you to do to be more empowered by Him to have victory over temptation today?
01-05-2021 STARTING WELL | Commitment
"In those days John the Baptist came, preaching in the wilderness of Judea and saying, "Repent, for the kingdom of heaven has come near.""
Matthew 3:1-2 NIV
There was a phase when I was younger I did not understand. I did not know myself. I did not know my personality type. I was seeking to know what I wanted in life and it was quite a frustrating time. Then in college I enrolled in psychology and religion courses where there were a lot of 'knowing who I am' exercises. Do you have such an episode in your life as well? Sadly, there are people who in their old age do not know themselves. In that case, they may have developed bad practices and bad behaviors. Many do not know what to do to change and become better human beings. - Prudy Verzo: (Searching Before Committing)
John the Baptist in today's Scripture reminds us that repentance leads to a changed life.
The religious leaders John confronted at the Jordan River did not see the need for change. Unless we recognize that we are sick, we will not seek healing. Unless we know we are in trouble, we will not ask for help. Until we accept that we make mistakes and "sin", we will not desire for a change of heart. Many of us struggle to commit to a changed life and lifestyle. We need to regularly assess who we are and where we are at so we can commit ourselves to a preferred future.
Today I did a health assessment at Life Time Fitness. I was not happy with the results. I am overweight. I cannot run for sustained periods of time without my heart beating off the charts. My body fat is not in the normal range and my flexibility is non-existent. It is a wonder I can function at all. Today I made a commitment to change. Maybe God is calling you to a change as well. Physically, emotionally, and spiritually, maybe God has a plan for you that means change. My prayer for myself and for you is to seek God's direction. May we all start well this 2021 so we can commit to God and strengthen our relationship with Him.
-Pastor Paul Marzahn
Questions for Reflection:
1. Have you been baptized? Why or why not? If you have what was the experience like? Infant or immersion baptism?
2. Have you ever confronted someone about their faith like John the Baptist?
3. How can I commit to a changed life?
4. How can I commit to living out God's purpose for my life?
12-29-2020 Starting Well - Focus
This week brings us to a new year. Traditionally the dawning of a new year signals an opportunity to start over. Many people make New Year's resolutions to lose weight, break a bad habit or start a new good habit. For us Christians, New Year's resolutions may involve more time reading the Bible, praying, using the gifts and talents God gave you in ministry at church, and more. Wouldn't we all like to start off 2021 well?
For January of 2021, we at CROSSROADS will be doing a series of messages called "Starting Well". We'll be looking at the life of Jesus and how He laid the foundation and set the direction for His life and ministry by starting well. On January 3, we start the series by looking at Focus. Even when He was a boy, Jesus' focus was on His Father in heaven.
Look at Luke 2:41-52, "Every year Jesus' parents went to Jerusalem for the Passover festival. 42When Jesus was twelve years old, they attended the festival as usual. 43After the celebration was over, they started home to Nazareth, but Jesus stayed behind in Jerusalem. His parents didn't miss him at first, 44because they assumed he was among the other travelers. But when he didn't show up that evening, they started looking for him among their relatives and friends. 45When they couldn't find him, they went back to Jerusalem to search for him there. 46Three days later they finally discovered him in the Temple, sitting among the religious teachers, listening to them and asking questions. 47All who heard him were amazed at his understanding and his answers. 48His parents didn't know what to think. "Son," his mother said to him, "why have you done this to us? Your father and I have been frantic, searching for you everywhere." 49"But why did you need to search?" he asked. "Didn't you know that I must be in my Father's house?" 50But they didn't understand what he meant. 51Then he returned to Nazareth with them and was obedient to them. And his mother stored all these things in her heart. 52Jesus grew in wisdom and in stature and in favor with God and all the people. (NLT)
In this passage, we clearly see Jesus' focus on His Father in heaven. Jesus was intrigued by His Father. He stayed behind in Jerusalem after His family had left to spend more time at God's house, the Temple. Jesus was found by his parents sitting around the religious leaders asking them questions. Jesus was seeking wisdom. Jesus showed He was drawn to worship when He told His parents, "I must be in my Father's house. Finally, Jesus' focus on His Father moved Him toward maturity. Verse 52 says Jesus grew in wisdom, stature and favor with God and people.
We can use Jesus' example to sharpen our focus on God. We can become more intrigued by God by growing to know Him more. We can seek more wisdom by reading, involvement in small group Bible studies, attending seminars, being discipled, etc. We too can be drawn to worship God by attending church as often as we can. By doing these things, we will see our spiritual lives grow to maturity exemplifying qualities like wisdom, stature and favor with God and people. Let's start 2021 well by focusing more on God!
Questions for Reflection:
1. What do people in our culture tend to be most focused on? Why?
2. What are some things that tend to distract my focus away from God?
3. What is one thing God is calling me to do today that will sharpen my focus on Him?
REWARDS | Intentionality
"But I tell you, love your enemies and pray for those who persecute you,"
Matthew 5:44 NIV
I was working on my message for preaching this weekend and this subtext caused me great unrest. The words of Jesus are clear - LOVE YOUR ENEMIES. When we think about our enemies, or those who have set themselves against us, we typically think about how to defend ourselves. At least I do.
My black belt training in Tai Kwon Do is engrained in me to defend and then counterattack. When an enemy attacks my character or tries to steal from me, I do not typically think about how to love them back. Good News is Jesus taught that we should. We should be intentional to love everyone.
Jesus tells us to use this "weapon of love" against our enemies. Love is a weapon. Love protects our hearts from being hardened. We have to be careful to not let the hate of others poison the garden of our hearts. We can't let the fear of what others might say or do contaminate the ground of our hearts. Hate mirrors hate. Bitterness brings about more bitterness. We must be careful not to stumble in our walk with God by studying the frailties of our enemies. Focus on God. Choose a relationship with God that helps us overcome evil with Good. We can't allow the actions of our enemies to change our thoughts and contaminate our hearts. May we let the fire of God consume every part of our hearts. May we let God's fire destroy every bondage and entanglement that's holding us back from loving others.
In Christ's Love and Service,
Pastor Paul
Questions for reflection:
1.What does it mean to love our neighbors? What does it mean to love our enemies?
2.Have you ever prayed for someone who used you or persecuted you? Why or why not?
3.What is one action step you could take to actively demonstrate love to someone with whom you disagree?
10-06-2020 REWARDS | Eternity
My friend Don Eslinger will be preaching at the CROSSROADS Lakeville campus on October 18th at 9:30 am. He shared a riddle with me today. "I am in the beginning of eternity and the end of time and space, the beginning of every end and the end of every place. What am I?
You maybe guessed it.
(The letter E)
I love the British missionary C. T. Studd's poem, "Only One Life." The lines that really get me are, "Only one life 'twill soon be past, only what's done for Christ will last." God has blessed us each with a purpose. He has placed us on this earth to work, to serve, and to care for those he has entrusted to us. I also believe that we are put on this earth to devote ourselves to a radical brand of generosity that changes lives now and for eternity. We are called to invest in eternity. To paraphrase God's words to the patriarch Abraham, we are blessed so that we can be a blessing. Blessings we share bless us and others. They are investments in eternity.
But what do we mean when we talk about being blessed? In our culture, this might be interpreted as financial blessing. And certainly, finances can be part of it. I believe, however, that the eternity God has us invest in encompasses so much more. When we share Christ's love with our family and friends we invite them to be a part of the kingdom of God now and forever. We are also called to invest our talents and spiritual gifts to build up the body of Christ - the church - so we may share God's eternal rewards. We experience God's blessings of the kingdom community through "Koininia" or fellowship. I could continue with an extensive list of Kingdom rewards we receive through our relationship with Jesus Christ. When I consider all of the blessings I've been given, it's hard for me not to pause and thank my Lord and my God. His heart is generous. His blessings are extensive.
Pastor Paul
09-29-2020 LOVING SOLUTIONS Marriage & Family
"Love is patient, love is kind. It does not envy, it does not boast, it is not proud. It does not dishonor others, it is not self-seeking, it is not easily angered, it keeps no record of wrongs. Love does not delight in evil but rejoices with the truth. It always protects, always trusts, always hopes, always perseveres. Love never fails."
- 1 Corinthians 13:4-8
A few years ago, Pastor Deb and I counseled a couple who were struggling with their marriage. Deb had an intuitive sense the man was not being faithful to his wife although outwardly he claimed fidelity. We eventually had to "speak the truth in love" to him like it tells us in Galatians when someone sins. When we confronted him, he said he no longer felt "in love" anymore. He said he wanted to find happiness in a new relationship away from his wife. In spite of all our efforts, we were unable to convince him that his marriage could be satisfying again. He bought into the lie of the world culture. He sought temporary happiness over God's holiness that leads to love that endures.
This world tells us that love is a feeling that can come and go. If this is true, then love will fail us every time. And it will never be enough to hold a marriage together. But this is NOT at all how God defines love. The Bible tells us that true love is unconditional. It doesn't keep a record of wrongs. It protects us. It heals us. True love never fails us! The love God speaks of is a love that can last a lifetime. May we all seek to develop love that endures. May we all grow in love and godliness so that holiness leads to happiness.
In Christ's Love and Service,
Pastor Paul
Questions for Reflection:
1. What is the current state of marriage and families today in our culture? Why are so many marriage and family relationships struggling?
2. How do we see God's plan for marriage and family as better than the culture's plan?
3. What step is God calling you to take today to be a more Christ-like member for my marriage and family?
09-22-2020 LOVING SOLUTIONS Friendships
"At that time, the disciples came to Jesus saying, "Who is the greatest in the kingdom of heaven?" He called a child, had him stand among them, and said, "I tell you the truth, unless you turn around and become like little children, you will never enter the kingdom of heaven! Whoever then humbles himself like this little child is the greatest in the kingdom of heaven. And whoever welcomes a child like this in my name welcomes me." - Matthew 18:1-5 NET
Our grandson Bellamy James is a fearless befriender. On the beach. On the playground. At church. If we are in a public space for any length of time, he is on the lookout for kids near his age. Being an only child, Bellamy loves the companionship. I've marvel at his boldness as he approaches kids he has never met with confidence. He assumes everyone will like him so why not strike up a conversation? His conversations naturally turn into activity, and the newly minted friends are soon building sandcastles, swimming around the pool, or playing ghosts in the graveyard on the playground equipment. There is no end to the creativity I've watched play out with his newly made friends.
Bellamy has discovered the joy in temporary companionship and in inviting others to join in the fun of friendship. He has the gift of putting others at ease and allowing them to feel like they belong. My grandson's befriending has also been an example I've started emulating. I am working on striking up conversations when meeting people and complimenting strangers while we stand in the checkout line. I am trying harder to engage people around me rather than just ignore others because we are all wearing masks right now. We may be asked right now due to Covid to be "physically distanced" but it is more important than ever to remain socially connected through interactions. May we all put on the love of Christ and share that type of love shows others we care. May we all have faith like a child that demonstrates unconditional love wherever we go.
Pastor Paul
Questions for Reflection:
1. How can you develop new friendships and be more friendly to those around you?
2. In what area is God challenging you to interact with your existing friends differently?
3. Where is God calling you to strengthen existing friendships and relationships?
09-15-2020 LOVING SOLUTIONS Church Partners
09-15-2020 - Loving Partnerships
"There are different kinds of gifts, but the same Spirit distributes them. There are different kinds of service, but the same Lord. There are different kinds of working, but in all of them and in everyone it is the same God at work. Now to each one the manifestation of the Spirit is given for the common good." -1 Corinthians 12:4-7 NIV
"If one part suffers, every part suffers with it; if one part is honored, every part rejoices with it." -1 Corinthians 12:26 NIV
Pastor Deb, Pastor Dan, Pastor Jason and myself all know we are better together. We are the body of Christ committed to being there for each other. We are called to loving partnerships where we support one another. When you experience suffering in life, you need people to be with you when you are struggling. There are difficult situations that nobody should ever have to go through alone. Nobody should ever have to wait alone in the hospital while a loved one is in a life-and-death surgery. Nobody should have to wait alone for news from a battlefield. Nobody should have to stand alone at the edge of an open grave. Nobody should have to spend the first night alone after a spouse has died or walked out. The fact is some of these things are going to happen to each of us. They're inevitable. We're going to go through tragedy and struggles. Yet, when we are partners in ministry we support one another.
A few years ago, we changed the name of our TEAM - Time, Evangelism, Abilities and Money course. We used to call it Team Membership class and the goal was to become a member of CROSSROADS. Pastor Deb renamed it to Team PARTNERSHIP class because she wanted people to see themselves as connecting and supporting one another at the church. She wanted people to live in a community like the Apostle Paul described in his letter to the Corinthians. As loving partners, we care for one another and share the works of ministry for the "common good." May we all live into our commitment to one another as partners in Christ Jesus. May we all realize that when one of us suffers, we all suffer. May we all as partners in the gospel share the good news.
Pastor Paul
Questions for Reflection:
1. What spiritual gifts do I have to share with the church? How can I share these gifts in a way that glories God and builds up the body of Christ?
2. How can I make a difference in my church so that the world sees Jesus in it?
3. What commitment to my church is God calling me to make? What commitments as a church should we be making to our partners to support them?
09-08-2020 Loving Solutions Vocation
09-08-2020 Vocation
"In all the work you are given, do the best you can. Work as though you are working for the Lord, not any earthly master." - Colossians 3:23 (ERV)
As you may know, this is my last week working as the Pastoral Intern at the Inver Grove Heights campus. Recently at a staff meeting, all of the staff said something they appreciate about me. Most people complimented me on being easy going or being calm during stressful circumstances. Believe it or not, it's all a lie! I'm a ball of stress! I have student loans that'll take me 30 years to pay off, I'm transitioning jobs during a pandemic, and I'm trying to figure out how to plan for my immediate future. We all have something to be stressed about, and work (something you have to do almost every day) shouldn't have to be one of them. Yet we find ourselves worried about meeting due dates, trying to make ends meet, and working with impossible co-workers. That's why following our vocational call is more important now than ever. If we're not working at a job we can thrive and grow in then it can make our lives miserable.
God calls each and every one of us to find a need in our society and meet that need somehow. Some of us are lucky enough to make it our full-time job while others make it their side hustle. Some of us are still figuring it out, and that can make things very difficult. If we don't feel like we're good at our job, then it affects every facet of our lives. It can make a loving relationship feel empty; our working relationships deteriorate; and that can kill our soul. God instills within us a passion not only to work, but to work for the betterment of our community. When we deny that, then we deny our spiritual selves. That's why we feel so empty when we work a job that is not our vocational call. We feel our lives to be pointless when we're not utilizing our strengths in our work.
It's only when we listen to our bodies when we're stressed that we can then identify the points in our work and work relationships where God can move. It's when we find purpose in our work that we can then work as though we're working for the Lord. Until then, we'll just be working for our earthly master. You know who that earthly master is? Money. When we do work that is fulfilling, then everything seems to fix itself. Our work relationships become easier, our daily tasks are easier to do, and when we're stressed we find a way to get past it. In order for us to find loving solutions in our jobs, we must allow Christ's love to be the center of our working lives.
Pastor Mark Schlasner
Questions to Consider
• What was the most stressful job you've ever had? What made it so difficult?
• Are you currently working in or working towards your ideal career? If you are, then how long did it take you to get there?
• How did you deal with stressful situations at work or with difficult co-workers?
• What advice do you think God is giving or would give you during those stressful times at work?

09-01-2020 - SIMPLICITY Simplify Your Perspective
Simplify Your Perspective
9-1-2020
Bible Text: 2 Corinthians 4:14-18 "We know that God, who raised the Lord Jesus, will also raise us with Jesus and present us to himself together with you. 15All of this is for your benefit. And as God's grace reaches more and more people, there will be great thanksgiving, and God will receive more and more glory. 16That is why we never give up. Though our bodies are dying, our spirits are being renewed every day. 17For our present troubles are small and won't last very long. Yet they produce for us a glory that vastly outweighs them and will last forever!
18So we don't look at the troubles we can see now; rather, we fix our gaze on things that cannot be seen. For the things we see now will soon be gone, but the things we cannot see will last forever." (NLT)
Our perspective on life makes all the difference. A person who has a worldly perspective finds that it is constantly changing. It is based on the subjective truth of cultural whims. It lacks a solid foundation. In contrast, a Christian's perspective is based on the truth of God's Word. Biblical truth grants us insight on God's plan and purpose for this world. Our identity is shaped by this worldview. It gives us confidence and hope for the future. In the midst of life's challenges and struggles, a Christian perspective helps to simplify and stabilize life, serving as an anchor to link us to God's faithfulness. Any other perspective contrary to God's Word is based on falsehood. Anything built on a lie leads to needless complexity, anxiety, fear, disillusionment, and despair. To simplify our lives, God wants us to have a true perspective on our life and world.
Questions for Reflection:
1. What do you think is the perspective on life held by most people around us?
2. Evaluate yourself. How would you describe your own perspective on life?
3. How is God challenging you today to align your perspective with His?
08-25-2020 - SIMPLICITY Simplify your Relationships
Ephesians 5:15-17 "So be careful how you live. Don't live like fools, but like those who are wise. 16Make the most of every opportunity in these evil days. 17Don't act thoughtlessly but understand what the Lord wants you to do." (NLT)
It's no joke how overworked, over-scheduled, and overcommitted most of us are. I'm guessing you feel that truth deep in your own soul too. On Sunday I talked about digital distractions and drowning in clutter. Also, we discussed the importance of simplifying our lives and prioritizing God. Yet the need for Sabbath and connection with God is more than a Sunday matter. The need for Sabbath is a profoundly human one, a present given to us at the start of creation. It is an essential tool for a healthy soul. Sabbath-keeping is life, and we need it now more than ever. To a culture that worships productivity, Sabbath is God's way of saying, 'stop.' I am writing this devotion while on a Sabbath rest. I am motorcycling with some friends for a few days. No phone. No emails. Nothing but talking with God as I look at the countryside around me for 8 hours a day. Sabbath is time with God, and we are blessed to be able to commune with Him whenever we want and wherever we want. Our relationship with God and others grows when we spend time with the source of all love. Spend some time with God this week and continue to simplify your life. See you Sunday!
Pastor Paul
Questions for Reflection:
1. What are some things that make controlling our time challenging? What character challenge do I have that makes controlling my time the most difficult?
2. What is God challenging me to do to better control my time? Where can I create more margin in my life?
3. What relationships in my life are healthy? What relationships need strengthening and which ones need pruning?